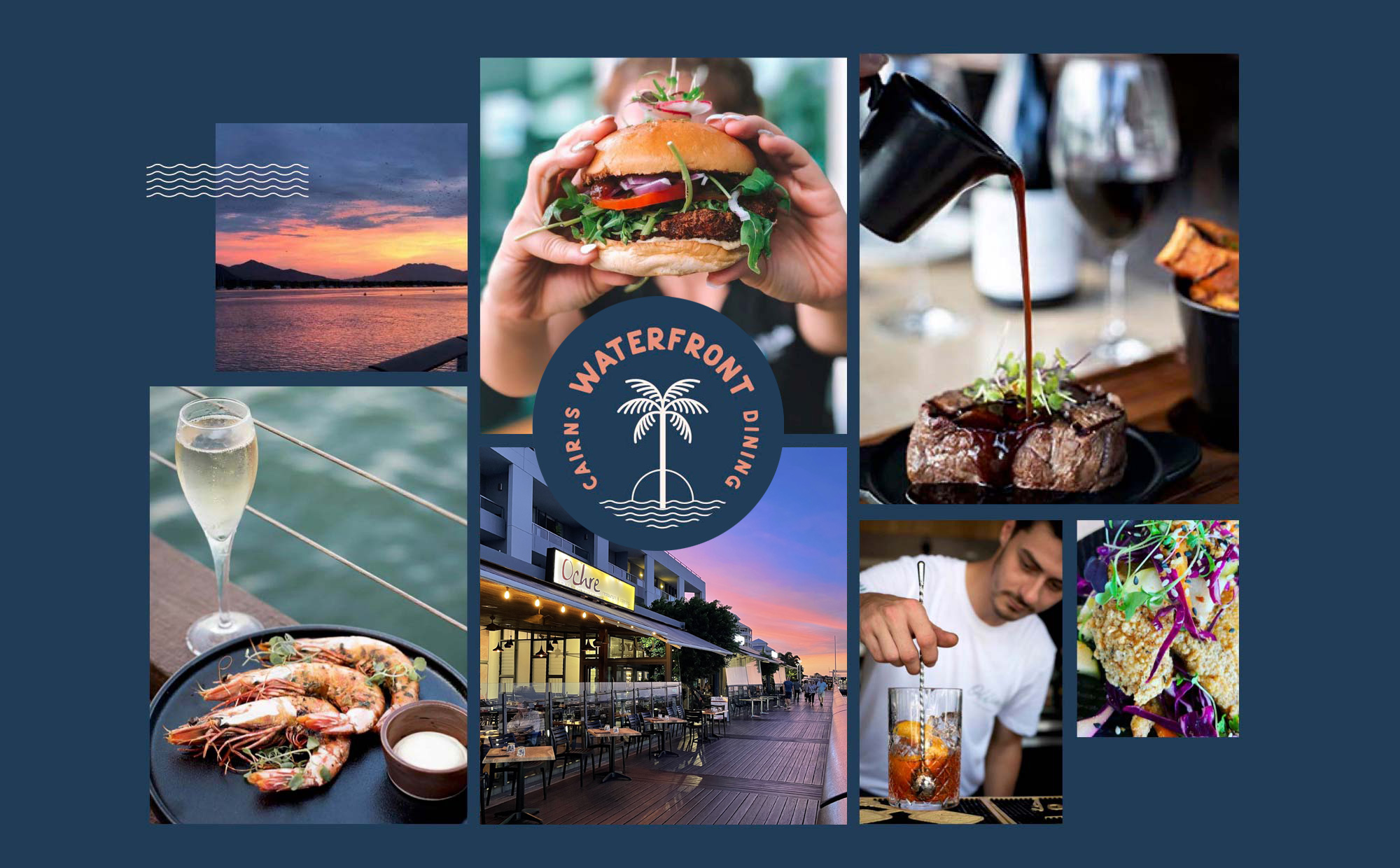 Ochre Restaurant
After a day touring around or a hard day at work, book into Ochre for dinner, located right on the boardwalk overlooking the marina and mountains beyond. Ochre combines the best local produce with native Australian flavors, fantastically fresh fish, seafood and aged beef cuts from the Tablelands. We have created a unique Australian cuisine matched with an eclectic wine and drinks list, recently commended as the Best Overall Wine List featuring Queensland wines in Australia. Ochre offers lounges on the boardwalk for casual tapas with your favourite cocktails through to degustation menus with matching wines.
Phone: +61 7 4051 0100
Email: info@ochrerestaurant.com.au
Monday to Saturday (Closed Sunday)
Lunch 11.30am to 3pm
Tapas 3pm to 5.30pm
Dinner 5.30pm to 9.30pm
Boatshed
Located directly on the waterfront, Boatshed dishes up a premium dining experience with uninterrupted views of the Trinity Inlet. Choose from an ample list of share plates, main meals, cocktails and extensive thirst quenching delights, Thursday – Sunday, 11am until late. Whether it's a special occasion, business function or casual catch up, simply kick back, enjoy and get ready to Eat. Drink. Both!
Phone: (07) 40 314 748
Thursday – Sunday / 11am until late
Ollie's Italian
Ollie's Italian is an ode to the things we love most: amazingly fresh ingredients, cooked the Italian way. We have hand-stretched Neapolitan style pizzas made with the purest respect for tradition and fresh pasta made by hand (including our ravioli). We also have some of Australia's best cuts of meats dry aged to perfection and cooked in our charcoal oven: The Josper. Soak in the waterfront views, sip on our killer cocktails and get around Ollie's; a warm, welcoming space with a big fat dose of sexy karma.
Phone: 4281 6841
Wednesday & Thursday 5:30pm – late
Friday – Sunday 11:30 – late
Bookings encouraged
Dundee's
Locally owned and operated for past 30+ years, Dundee's Restaurant on the Waterfront, modern Australian menu features tender Australian bred beef grilled to perfection; fresh local seafood, pastas, salads and house made desserts.
Dining at Dundee's is often on the 'must do' list for tourists, as is visiting the Great Barrier Reef or exploring the surrounding rainforest.
Dundee's understands the wants & expectations of Cairns locals and international tourists alike and strives to continue to set the standard for years to come. No matter what the occasion or appetite, you will be catered to beyond expectation at Dundee's.
Opening Hours:
Phone: 07 4051 0399
Email: dundees@dundees.com.au
Monday to Sunday: Lunch from 11.30am
Dinner from 5pm
Lounge Bar from 11am
Bookings essential.
Blu Marlin
Located within the Waterfront dining precinct, in the heart of the Reef Fleet Terminal, Blu Marlin Bistro is part of the daily gateway experience to the Great Barrier Reef.
Sit and relax taking in the local surrounds of a bustling jetty, busy boardwalk all the while enjoying one of the best coffees in town. If coffee is not on your menu, there is a selection of cold beers, wines or cocktails.
Hungry? grab-n-go., but why not revel in one of our delicious dining options, inspired by our vibrant chefs who infuse our food with a touch of the personal speciality and sumptuous regional excellence.
7 days – 6AM to 2PM
07 4031 6222
info@blumarlinbistro.com